Welcome to Accent`Granite Interiors
Granite Countertops for Northeast Georgia & Western South Carolina
- Select the actual piece of granite at our warehouse or choose from over a hundred colors and styles on-line.-
See Exotic Granite Colors

-Granite Countertop Fabrication Is Our Specialty.
-30 Years Experience
Modern Computer Aided Machinery
Your Satisfaction Guaranteed

-Granite Countertop Information
-Granite Countertop Clearers
-Granite Countertop Photo Gallery
-View Granite Slabs
-Cost Estimates
-Granite Countertop Cleaners
Accent Granite Interiors, LLC is a granite countertop contractor specializing in the fabrication and installation of granite and marble kitchen countertops and bath vanities in both home and business applications. We serve North Georgia & Western South Carolina, in and around the cities of Augusta & Athens, Georgia, and Aiken, Greenwood, Anderson & Greenville, South Carolina. We will guide you through the process, and guarantee your satisfaction. We are also dealer for Blanco Stainless Sinks, Mindís Eye Sinks, TENAX and Lustro Italiano Stone Care Products. Accent` your home with beautiful granite countertops!
Customer Satisfaction Is Our Top Priority!
No other countertop matches the beauty and value of granite countertops. Granite has a distinctive appearance and is ultra durable, highly heat and scratch resistant ,and because of its popularity, is cost effective and yields a comparatively high return on your investment. Custom granite kitchen countertops and vanities add style and beauty to your home creating a showcase that personifies quality, luxury and good taste. Whether you are remodeling or involved with new construction, granite countertops will make a beautiful addition and increase the resale value of your home. Granite has become the natural stone of choice for todayís luxury living for your home or office. The enduring product has certainly made it a top selection for performance and durability. No synthetic material can compare to this wonderful stone in beauty or performance. More information here..
Choose Accent` Granite Interiors for Your Granite Countertops
Choosing the right Granite Contractor to fabricate and install your countertops is one of the hardest choices of your granite countertop project. Accent` Granite Interiors treats every installation as it were in our own home. We have over 30 years experience in granite countertop fabrication using the most modern, computer aided equipment, and have some of the best trained technicians in the industry.
IceStone Countertops

IceStone durable surfaces are made of recycled glass and cement and is one of the most environmentally safe products you can use for home building. It is strong like granite, not as porous as marble and heat-resistant like stone. The chemical composition is benign and 99.5% inorganic, making it a very safe material from the standpoint of toxicity and fire resistance. The fabrication, installation and maintenance of IceStone surfaces follow essentially the same process as used with natural stone.

IceStone materials can be used towards LEED points.
GO GREEN! More about IceStone.

Dupont Zodiaq Quartz Countertops

Zodiaq is an advanced composite material made of 93% quartz, a DuPont proprietary binding polymer and pigments developed for one purpose: to create a new material with its own depth and character and a unique aesthetic, suggesting a sense of enlightened luxury and an attitude of bold sophistication. With a cool, fresh, sparkling look, Zodiaq catches and reflects light, capturing the radiance of quartz crystal. Zodiaq also has unusual clarity and consistency of colour, qualities that offer great potential for use in both horizontal and vertical applications. Zodiaq is the original quartz surface material made by DuPont.
Minds Eyeís Sinks & Lavatories
For sheer beauty, nothing matches Mindís Eye sinks and lavatories. Choose from stainless steel, porcelain, glass, and even hammered copper sinks and lavatories. Mind's Eye is a Georgia company driven by a vision for creating performance products that embody both beauty and quality. From the initial design of a new home to the addition of another element of luxury, these sinks provide innovative products, at an affordable price, that add panache to your project design. More Granite Countertop Sink information
See samples of Mindís Eye sinks below.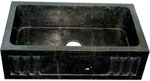 Call 1-888-273-9776 or e-mail Accent` Granite Interiors today at for a free granite countertop estimate.
Accent Granite Interiors, LLC
1294 Athens Hwy
Elberton, Georgia 30635
Driving Directions
Phone 1-888-273-9776
Fax 706-283-3146
E-mail accentgranite@elberton.net